Fariz RM
Media used to call him "Pangeran Musik Indonesia" (The Prince of Indonesian Music). He's talented, good looking, and dared to offer something different to the Indonesian music in his era. Pop creative, that's what media used to call it, was quite something new in Indonesia back in the 80′s. Fariz RM was one of few pioneers in pop creative industry which later changed the stlye of Indonesian music in general.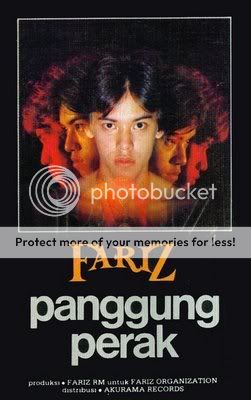 Fariz Rustam Munaf was one of the major symbol of the new spirt from youth generation of musicians and singers back in the 80′s. In the era when cheesy love songs from Pance Pondaag, Rinto Harahap, Deddy Dores, etc, conquered all the music environment, Fariz RM entered the market with such a style. Sakura was his first hit in Indonesian top music charts.
His voice perhaps was not the best. But his songs and especially his music was really refreshing. You can't help but admire how genius he was composing some melodies using keyboards or synthesizers. In fact he could play in almost all instruments including guitar and drums. Song called Barcelona really reflects that. Unique and romantic lyric with self-made music which became his trademark.
Beside releasing some solo albums, Fariz RM was also collaborating with so many musicians and artists. Some of the hilites are single Jumpa Kedua with Ekky Sukarno and Jakarta Rhytim Sections, Pandang Mata with the sweet Nourma Yunita, Nada Kasih with Neno Warisman, and Hanya Satu Kamu with another pop creative symbol, Deddy Dhukun.
Fariz RM married to former model from Semarang, Oneng Diana, at the end of 80′s decade. Sadly his personal life later became part of his low lites. His involvement with drugs and alcohol couldn't help but scratch his great achievement in music industry. Hopefully he'll be able to put himself together again and recreating back some of his creations in this new era.
As usual, to bring back the memory of Fariz RM, you can find some mp3 songs from him at 4shared.com site.
Download Mp3 Sakura by Fariz RM
Download Mp3 Barcelona by Fariz RM
Download Mp3 Pandang Mata by Fariz RM (with Nourma Yunita)
Download Mp3 Jumpa Kedua by Fariz RM (with Ekky Sukarno & Jakarta Rhytim Section)
Download Mp3 Hanya Satu Kamu by Fariz RM (with Deddy Dhukun)
Download Mp3 Nada Kasih by Fariz RM (with Neno Warisman)
Download Mp3 Nuansa Bening by Fariz RM (with Keenan Nasution dkk)
Download Mp3 Susie Belel by Fariz RM
Download Mp3 New Sakura by Fariz RM
Download Mp3 Diantara Kata by Fariz RM
Download Mp3 Selamat Ulang Tahun by Fariz RM
Download Mp3 Renungan Dibayang Dewasa (new version) by Fariz RM
Download Mp3 Angin Senja by Fariz RM
Download Mp3 Mereka Di Jalanan by Fariz RM
Download Mp3 Kekagumanku (Miracle) by Fariz RM
Download Mp3 Mega Buana by Fariz RM
—————————————————
Read Fariz RM biography in wikipedia Indonesia
Special thx to all of you who share the Mp3 file above
Incoming search terms for the article: