7 Best Action Movies
After talking about movie sequels in best movie series, it's time to post about best movies in each individual genre. Now it's all about guns, explosions, and fighting scenes. It's all about ACTIONS. Here I'm gonna list down some top action movies ever made in Hollywood history. Without any elements of science fiction or fantasy.
This is arguably the best action movie that I've ever seen. John Mc Tiernan really did a fantastic job directing this action flick. Die Hard was brought to screen from a novel called Nothing Lasts Forever (1979) written by Roderick Thorp.
Unlike any other action movies, Die Hard has all the elements of fantastic movie in general should be. Strong characters, good story, huge action sequences, and great conflict development. John McClane, played by Bruce Willis, is not your regular hero. He's just another guy who has to face the international thieves organization on his own. Alan Rickman who played Hans Gruber (the terrorist) really stole the show on this movie.
2. Speed (1994)
Nobody had ever predicted that this movie could become a hit. The budget was only $28 millions, the director was the unknown Jan de Bont (Speed was his first movie as director), and had Keanu Reeves in it (he never starred in such action movies before Speed). The truth? It became a phenomenon.
Speed combined action with smart story. There's a bomb on a bus. If it's slowing down below 50mph it'll explode. With that kind of story, it makes sense that the pace is built intensely very fast from the beginning. Jan de Bont showed the world that he could make a masterpiece from his first movie. Before directing Speed, Jan de Bont was actually a cinematographer in some great movies like Die Hard (1988), The Hunt for Red October (1990), Basic Instinct (1992), and Lethal Weapon 3 (1993).
What do you expect from Hong Kong director John Woo? Obviously action movies with artistic touch. And that's exactly what this movie offered. John Woo has been famous by his unique action style. Shooting guns on both hands, bullets and explosion with flying pigeons, and male bonding. Those what you can find in Face/Off.
Surprisingly, Face/Off had a superb twist in its characters. This is a kinda action movie that really needs academy awards nominee actors in it. John Travolta and Nicolas Cage worked together really well to create a jaw dropping character switch that's rarely found on other action movies.
This is not an ordinary cop versus bad guy movie. It's one of the best. The action sequences admittedly were not really special eventhough they were still good. It's not the action what makes it special. It's the characters.
Mel Gibson and Danny Glover were at their best. Their characters, Martin Riggs who's crazy and Roger Murtaugh who's sane family man, blend very well with all the differences they had together. The interactions between them was very touching and funny at the same time. Directed by senior director Richard Donner, Lethal Weapon eventually became one of the important cop films and has strecthed to 3 sequels including the last one, Lethal Weapon 4 (1998).
You just can't leave James Cameron from the list of best action movie. He's arguably the master of action sequences. He used to combine action with science fiction or fantasy, but there's one movie where he did it without those elements. The movie was True Lies and guess what, had Arnold Scwharzenegger in it.
True Lies was a fun and joy ride. And it was really funny. The story about a secret agent who has ordinary life in his family without his wife knowing it really became an interesting story. James Cameron surprisingly could bring the funny side of Arnold. He combined it with phenomenal action sequences involving VTOL (Vertical Take Off and Landing) aircraft, Harrier. What a superb action sequences.
6. The Hunt for Red October (1990)
This was the first movie of CIA analyst Jack Ryan, character taken from Tom Clancy famous novel. I'm not gonna tell you about the story because it'll be a major spoiler. But this movie is arguably the best submarine movie ever made. Sean Connery and Alec Baldwin lead the main characters.
Directed by John McTiernan who also directed Die Hard (1988). The Hunt for Red October is a full pack action thriller movie with high intensity on the conflict. It related to the cold war situation between US and Soviet Union. Alec Baldwin played the first Jack Ryan in this movie before being replaced by Harrison Ford in Patriot Games (1992) and Clear and Present Danger (1994), and later Ben Affleck in The Sum of All Fears (2002).
Top Gun (1986) was the best action movie involving dogfight sequences. The movie tells story about a jet fighter pilot who joined the top fighter pilot class program. It has actions, drama, and cheesy love story. The major point of this movie is the dogfight sequences. Aerial shot to cover the manouvre of some jet fighters was outstanding.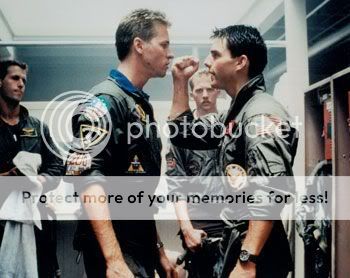 Top Gun was a major success back in 1986. Tom Cruise got his first $100 millions movie from Top Gun. His classy navy pilot looks became one of the fashion trend back then. Top Gun also had some of the greatest soundtracks ever appeared on the movie. It really blend with the action sequences.
That's my version on 7 Best Action Movies. I will continue with other genre next time. If you have some great experience watching other action movies, please feel free to share it here
Incoming search terms for the article: